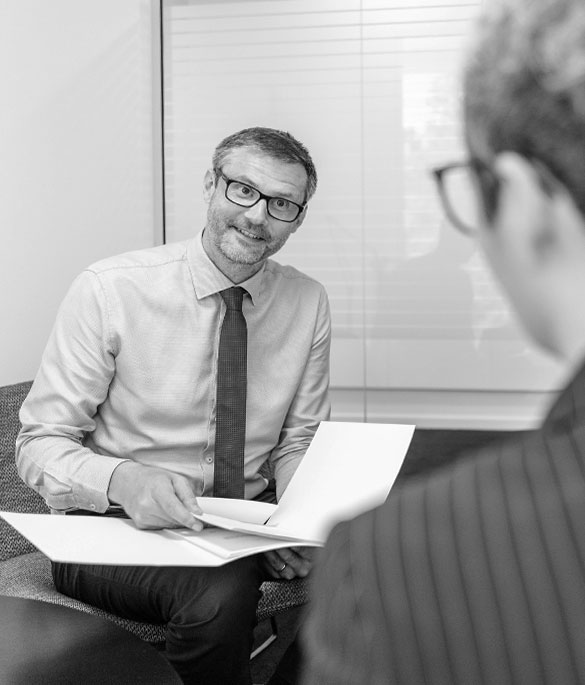 Benefit plan and insurance
When it comes to attracting and retaining skilled employees, a competitive benefit plan is a fundamental cornerstone in a company's overall remuneration package. In addition to the actual pension savings, a scheme typically also includes a number of insurance provisions in the event of an accident.
Financing options
The pension contribution is administered through salary and normally consists of a mandatory employer contribution as well as a pension contribution paid by the employee. The employee can also pay a voluntary contribution on top of this. Insurance coverage can be funded by the pension contribution or be paid separately by the employer.
After deduction for insurance coverage, administrative fees and advising fees, the pension contribution is invested in the select savings product and risk profile.
Analysis and advising that create value
On the strategic level, Ensure helps our clients with a comprehensive initial analysis of needs and preferences for the overall pension- and health insurance solution for your business.
A well-defined pension policy with the option to actively add or exclude various features will often be a valuable exercise. To create the most solid anchoring in our requests for quotes and market negotiations, we will typically also involve risk considerations from sources such as satisfaction surveys, APV, health policy, health screening, risk statement and damage reports. In addition, potential M&A activity and coordination of multinational benefits solutions can be incorporated into a customised setup.
Strategic level
For most of us, pension savings will be the largest and most important savings of our lives. It is therefore of the utmost importance that it be managed as well as possible for optimal value during retirement years. Ensure guarantees full transparency and unbiased advising in all decision-making parameters for both the company and its employees.
Tactical level
On a tactical level, Ensure guarantees that the current providers are benchmarked against alternative market options and subsequent proposal analysis. Working on the basis of your specific numbers, defined needs, and decision-making parameters, you will receive an objective and transparent overview and at the same time a clear recommendation on solution options. We handle negotiations with the pension and health insurance providers so you can obtain the best possible terms and prices.
Our unique analysis model considers all aspects and measures numerous financial parameters and insurance conditions. From the perspective of the individual employee and the supplier option on market. If the conclusion is to change supplier, we coordinate the entire process. From agreement documents and communication to employees, information meetings, individual consultations, and follow-up and implementation.
Operational level
On the operational level, your data is continuously analysed, and any challenges or proactive advising issues are identified for personal consultation with your employees. This thereby ensures timely updating of conditions. Our advising is therefore both adapted to the market and updated in relation to the most recent and applicable pension legislation. You are thus guaranteed that both supplier choice and individual employee considerations are fully up-to-date.
If an accident occurs and one of your employees needs to utilise their insurance coverage, Ensure supports you with advising regarding the protocol with the insurance provider. Ensure also takes care of most day-to-day administrative tasks concerning your pension and medical solution, all you have to do is notify us of when employees join and leave.
Want to know more?
If you would like to find out more about how Ensure can help you find the best solution available on the pension market, please contact Managing Partner Lasse Siggaard by telephone +45 3131 3195 or email us at lsi@ensure.dk.
Your meeting or conversation with us is completely free of charge and non-binding.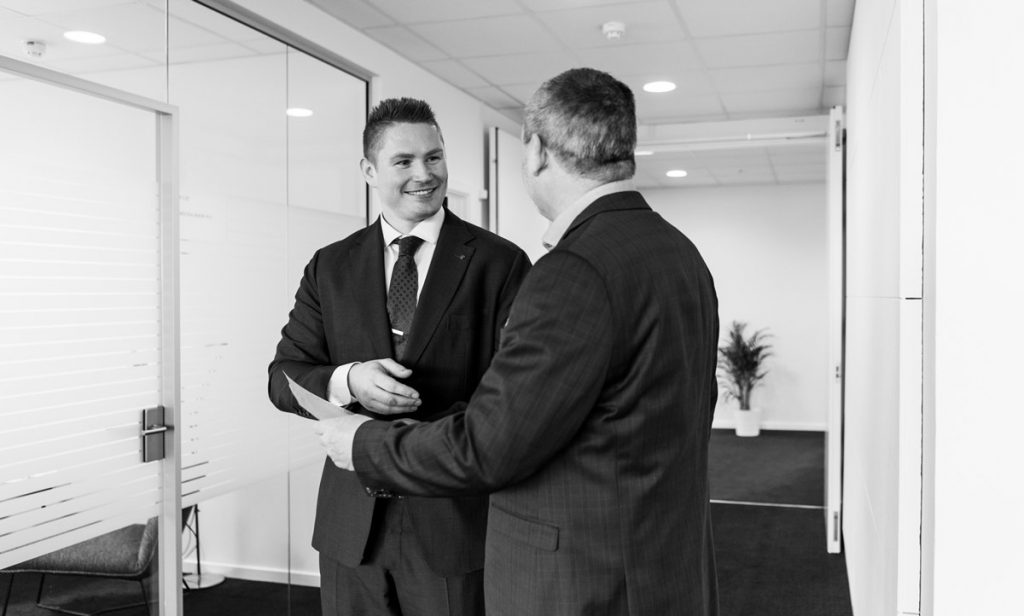 Personal and unbiased advising
Personal, impartial, and attentive advising for your employees is one of our hallmarks. We provide information so well informed decisions can be made. Working on the basis of specific numbers, defined needs, and decision-making parameters, your employees will receive a comprehensive, objective, and transparent overview of their benefit plan and a clear recommendation as to solution selection.
We make it a priority to ensure that your employees receive quality feedback and an attentive review. We allocate 60 minutes for each employee consultation, and this can take place either at your location or virtually.
Read more about what you can expect as an employee:
---
Contact our specialists