CLIENT PROMISE: WE TAKE THE PULSE OF AN INSURANCE AND PENSION MARKET IN CONSTANT FLUX – AND CONTINUOUSLY MONITOR YOUR AGREEMENTS AND OPTIONS
The world is constantly changing, and new conditions and situations arise that can have a major impact on your business. Just look at what happened after the corona virus. Many enterprises faced big and unknown changes that they did not know how to navigate. These changes create new risks that are pushing the insurance and pension markets.
At Ensure, our primary mission is to be one step ahead. It's our responsibility to know what is happening in the market, so we ensure that our clients always have the right coverage at the right times.
Our brokers constantly monitor your agreements, coverage and prices
At Ensure, our job is to monitor and adapt our clients' agreements and coverage as society and markets develop.
We make a point of sparring with each other internally and sharing information across specialties and disciplines. That way we know about the latest market trends, legislative changes, new rules and conditions or pitfalls that need special attention.
Our clients are always contacted when new developments occur that may affect their insurance programme. We also inform them about benefits and changes which can generate added value. We ensure that our clients' current solutions are adapted and kept up to date.
Our brokers thus ensure that they are one step ahead, and we work proactively to keep ourselves and our clients up to date. That enables us to advise you through a volatile insurance market.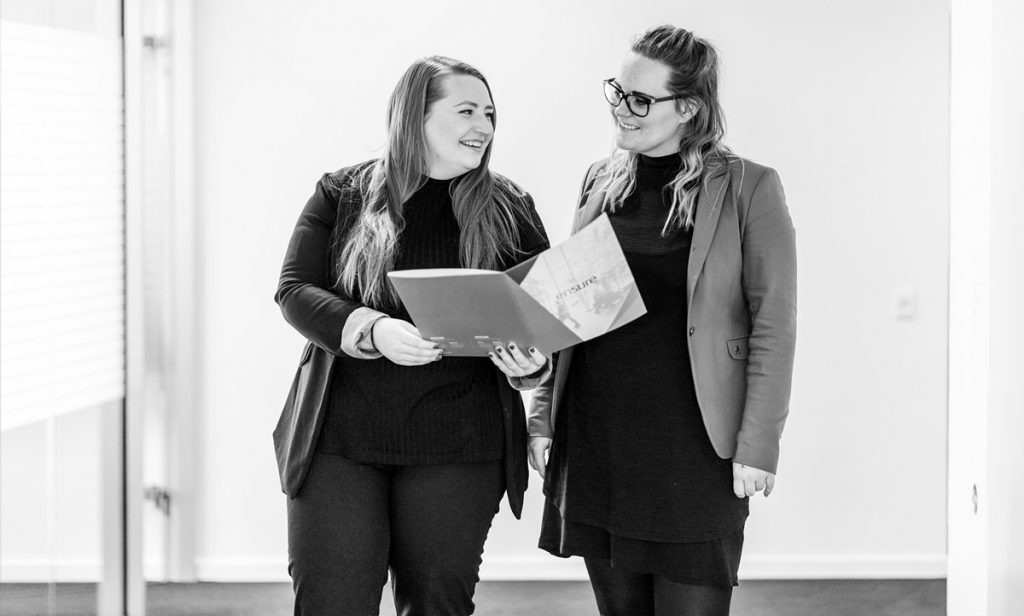 Is your cover appropriate?
Responding quickly to external as well as internal changes can be a decisive factor in determining whether your business and employees are in control of the risks that may arise in relation to their insurance policy. Therefore, our brokers are always updated, so we can advise our clients in the best possible way.
We recognise that business insurance and pensions can be complex issues, which is why we take the responsibility off your shoulders. We give you the full overview and work proactively for and with you. Our insurance brokers always review our clients' current insurance coverage to uncover any pitfalls or missing coverage, and whether the insurance sums match the real value.
This way we create safety and security through an overview and transparency for companies in their insurance choices. We act as your trusted sparring partner and monitor your business agreements and opportunities.
Benchmark analysis and expert pension advice
At Ensure Pension, we always base our advice to our clients on the enterprises' current pension agreement. Here we make a thorough and comprehensive comparison with the other alternatives available on the market.
Based on our benchmark analysis, we make a recommendation for your enterprise: Either to leave the pension contract with the existing provider or to switch to another and – to your enterprise – better provider.
The recommendation is always documented by a detailed comparison of all the financial parameters that are important to obtain the best pension scheme. In the comparison, we measure, among other things:
Your return
The historical returns
Prices for insurance cover
The prices of the pension savings, both direct management costs and indirect investment costs
An illustration of the product risks
In addition to the benchmark analysis, our pension brokers will also provide you with an overview of the insurance coverage that can be advantageously linked to your company agreement and, not least, an overview of the conditions under which the insurance policies are taken out. In this way, we strive to make a difference to both our clients and their business.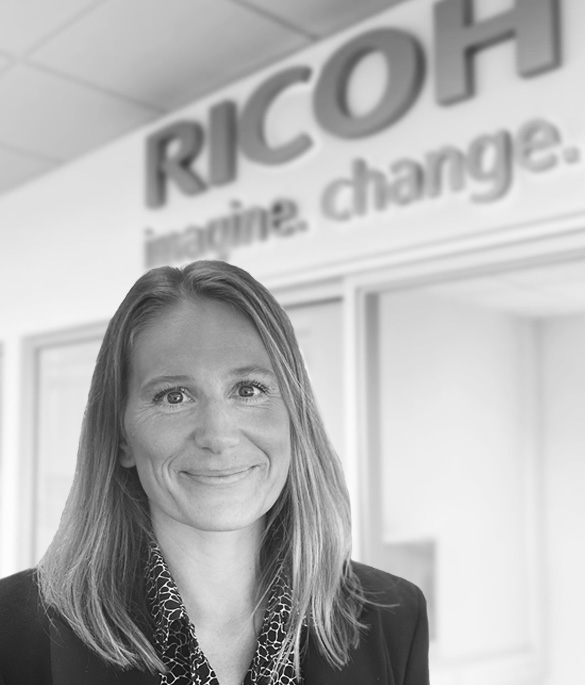 When the client is given the floor
Ricoh Denmark is a client of Ensure Pension. We attend to employee insurance and pension schemes and constantly monitor our client's agreements and options. We talked to EA & HR manager Nicoline Skræp about our collaboration, and were pleased with the positive feedback:
"Our pension broker Henrik Bodnia is very good at keeping us informed and in touch. We have regular annual meetings with Ensure, attended by our CFO and myself. This is very appropriate for our needs, but of course we will always be updated if there are new and relevant changes in the pension and insurance market that may affect our agreements.
The impartial counselling is clearly what we value most about our collaboration with Ensure. This provides a great deal of confidence when it comes to finances and issues such as pensions, where many of our staff are not experts themselves. We are also happy with the process – if we get a new employee, booking a counselling session with Ensure is very easy. In this way, the new employees feel welcome.
At Ensure, you are very good at customer care and ongoing follow-up, and I have always met positive employees who are nice and welcoming. Both my colleagues and I have found that your advisers, each with their own speciality, communicate complicated issues in a down-to-earth and understandable way."
– Nicoline Skræp, Ricoh Danmark
What our client promise means to our employees
Associated Partner, Ensure Forsikring
Thomas Bach is Associated Partner of Ensure Forsikring Vest. He explains how he takes the pulse of a constantly shifting insurance market and how he monitors clients' deals and options:
"We interact well and share each other's experience and expertise. To our clients, this means that potential pitfalls and new trends in the markets are constantly monitored. This allows us to ensure that our clients have the right coverage at the right time based on how the market is moving."
For more information watch this video where Thomas describes what the client promise means to him.
Partner, Ensure Pension
Peter Grejbe Buhl is a Partner of Ensure Pension, and he says that they have done something very special in Pension to collect, sort and disseminate all the information that comes from insurance and pension companies. In this way, Ensure Pension ensures that the clients are always kept up to date with relevant knowledge:
"Specifically, we've set up a technical committee to ensure that the huge amount of information coming from pension and insurance companies is received by the right people – so that all the relevant information is communicated to our customers afterwards."
For more information watch this video where Peter describes what the client promise means to him.